A message from Kenneth Gibbs, Maimonides President and CEO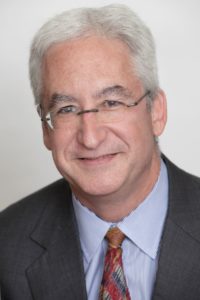 Maimonides is proud to be Brooklyn's leading medical center for the most sophisticated services, providing outstanding care to the borough's residents across their lifespans. Our nationally recognized clinical services ensure that Brooklyn residents receive the best care – right here in Brooklyn.
We offer centers of excellence in Heart and Vascular Care, Cancer and Breast Care, Neurosciences/Stroke, and Orthopedics. Maimonides has the largest and most experienced robotic surgery team in Brooklyn, and we have the borough's only two hybrid operating rooms in which complex surgeries are performed using the most advanced technology. We also offer primary care services through a growing network of physicians across Brooklyn.
Sincerely,
Kenneth D. Gibbs
President and Chief Executive Officer
Learn More About Our CEO
Kenneth Gibbs is President and CEO of Maimonides Medical Center. Mr. Gibbs joined the Board of Trustees at Maimonides Medical Center in May 2013, becoming the Chair of the Strategic Planning Committee and, a year later by acclamation, assumed the Chairmanship of the Board. He led Maimonides through a complex process of selecting North Shore-LIJ as the right partner for the institution, working with senior leadership at both institutions as well as a broad spectrum of internal and external stakeholders.
Mr. Gibbs has spent more than 30 years in public finance, during which time he has led numerous multi-million dollar financing deals to support essential public programs and facilities in cities and states around the country, including: revitalized urban downtown areas, upgraded schools, clean drinking water programs, airport upgrades, and the overall creation of thousands of jobs.
For the previous six years, Mr. Gibbs served as President of the Municipal Securities Group at Jefferies, LLC in New York City. He stepped down from this position before becoming President and CEO of Maimonides. Prior to his role at Jefferies, he was the Chief Executive Officer of DEPFA First Albany Securities, the Director of Public Finance at First Albany Capital, and held investment banking positions at Lazard Freres & Co., Credit Suisse First Boston, and Kidder Peabody.
Mr. Gibbs has applied his expertise and relationships in the public finance sector to advance the work of non-profit and public policy organizations. Since 1991, he has been a Board Trustee of the Citizens Budget Commission and served as its Chair from 2010-2014. Born and raised in New York City, Mr. Gibbs is a graduate of Harvard College and lives in Manhattan with his wife, Cathy Cramer. They have four children.
Maimonides is committed to providing outstanding care to Brooklyn
We are home to the most advanced team of orthopedic specialists in the region at our Bone and Joint Center; plus, we're Brooklyn's only Comprehensive Spine Center
The Maimonides Cancer Center is Brooklyn's only full-service Cancer Center accredited with perfect scores in all categories (Commission on Cancer of the American College of Surgeons)
The Maimonides Heart and Vascular Institute offers the most advanced treatment available to all cardiovascular patients and significantly improves the lives of congestive heart failure patients
We have the only Children's Hospital in Brooklyn (Vermont Oxford Network)
The Stella and Joseph Payson Birthing Center supports more babies than any other hospital in New York State (New York State Department of Health)
The Jaffe Stroke Center offers cutting-edge techniques and new hope for stroke victims and is considered an Advanced Comprehensive Stroke Center (New York State Department of Health)
We are also 1 of the country's largest independent teaching hospitals, training 500 residents and fellows each year across a number of clinical specialties including medicine, surgery, pediatrics, OB-GYN, orthopedics, emergency medicine, and radiology
We are among the Top 10 hospitals in the nation for clinical excellence (U.S. Centers for Medicare & Medicaid Services)
Clinical Leadership
Jeffrey R. Avner, MD, Pediatrics
Patrick I. Borgen, MD, Surgery
Jack Choueka, MD, Orthopedics
Scott Chudnoff, MD, Obstetrics & Gynecology
Bernadine Donahue, MD, Radiation Oncology
Anthony N. Kalloo, MD, Medicine
Steven Konstadt, MD, Anesthesiology
Jenny Libien, MD PhD, Pathology
John P. Marshall, MD, Emergency Medicine
Daniel Rosenbaum, MD, Neurology
Jacob Shani, MD, Cardiology
Steven Shankman, MD, Radiology
Abraham M. Taub, DO, Psychiatry
Senior Management
Kenneth Gibbs, President, and Chief Executive Officer
Michael Antoniades, Executive Vice President, Chief Operating Officer
John Mallia, Executive Vice President, Chief Financial Officer
David I. Cohen, MD, Executive Vice President, Population Health & Academic Affairs
Douglas Jablon, Executive Vice President, Patient Relations; Special Assistant to the President
Robert Press, MD, Ph.D., Executive Vice President, Medical Affairs
Barry Stern, President & CEO, New York Community Hospital
Laurie Weinstein, Executive Vice President, Legal Affairs and General Counsel
Heshy Augenbaum, Chief Development Officer
Marcel Biberfeld, DSW, Executive Officer, Constituent & Donor Services
Robert Cimino, Vice President, Digital Health Strategy & Implementation
Declan Doyle, Senior Vice President, Operations and Clinical Programs
Walter Fahey, Senior Vice President, Management Information Systems & Chief Information Officer
Derek Goins, Senior Vice President, Real Estate & Construction
Caroline Greene, Senior Vice President, Population Health
Sandra C. Maliszewski, Vice President, Chief Compliance & Privacy Officer
Denise Pelle, Senior Vice President, Ambulatory Care
Eric Scalettar, Senior Vice President, Planning
Thomas Smith, RN, Chief Nursing Officer & Senior Vice President
Adam Stolz, Vice President, Strategy and Administration
Paul Stuart, Vice President, Human Resources
Harold Wodinsky, Senior Vice President, Physician Enterprise
"I'm confident that the more you know about this wonderful organization, the more you will want us to be your hospital, whether as a patient, volunteer, donor, or supporter."   
- Kenneth Gibbs, President and Chief Executive Officer
Board Of Trustees
Eugene Keilin, Chair
Paul T. Addison
Harry Adler, MD
Donna Astion, MD
Richard A. Barasch
Irwin M. Birnbaum
Joseph Bruno
Rev. Msgr. David Cassato
Chaim Fischer
Richard D. Forman
Kenneth D. Gibbs
Jeremy Glick
Jack A. Hidary
Lofton Holder
Mortimer N. Klaus
Chaim H. Leshkowitz
George Liu, MD
Robert Machinist
Donald Meltzer
Frank A. Naccarato
Azzam Obeid
Martin Payson
Trevor Price
Peter Rebenwurzel
Erminia Rivera
Alex Rovt, Ph.D
Mary Singh
David Spira
Aaron D. Twerski
George Weinberger
Keith Wortman
Michael L. Ziegler, Esq.
Emeritus Trustees
Norman A. Ohrwashel
Alfred Schonberger
Teamwork is our top priority
Our leaders are committed to creating an environment that encompasses teamwork, respect, and fosters a culture of innovation. Maimonides continues to pioneer technology to provide exceptional patient care to our Brooklyn community.
Maimonides—we are Brooklyn born, respected everywhere. #OneMaimonides