A message from Kenneth Gibbs, Maimonides President and CEO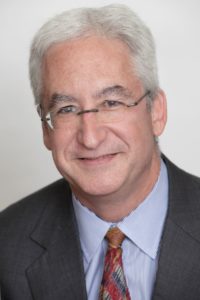 Maimonides is proud to be Brooklyn's leading medical center for the most sophisticated services, providing outstanding care to the borough's residents across their lifespans. Our nationally recognized clinical services ensure that Brooklyn residents receive the best care – right here in Brooklyn.
We offer centers of excellence in Heart and Vascular Care, Cancer and Breast Care, Neurosciences/Stroke, and Orthopedics. Maimonides has the largest and most experienced robotic surgery team in Brooklyn, and we have the borough's only two hybrid operating rooms in which complex surgeries are performed using the most advanced technology. We also offer primary care services through a growing network of physicians across Brooklyn.
Sincerely,
Kenneth D. Gibbs
CEO, Maimonides Health
President & CEO, Maimonides Medical Center
Learn More About Our CEO
Kenneth D. Gibbs has served as CEO of Maimonides Medical Center (MMC) since January 2016. In March of 2022 he also took on the role of President of Maimonides Health, the Brooklyn-based health system that includes both MMC and Maimonides Midwood Community Hospital (MMCH) as well as a broad network of ambulatory services.
Mr. Gibbs joined the Board of Trustees at Maimonides Medical Center in 2013 and was Chair from May 2014 through December 2015, during which time Maimonides formed an affiliation with Northwell Health.
During his tenure as President & CEO, MMC has continued to build upon its legacy of clinical excellence and innovation, achieving designation as an Advanced Comprehensive Stroke Center and establishing Brooklyn's only Pediatric Trauma Center and Comprehensive Spine Center. For each of the last four years, Maimonides has ranked among the top 10 health systems nationwide for clinical performance according to comparative data published by the Centers for Medicare and Medicaid Services. The Maimonides Heart and Vascular Institute is consistently among the nation's top performers and in 2020 ranked #1 in the nation for heart attack survival rates. Maimonides' Jaffe Comprehensive Stroke Center is among the top 1% in the U.S. for patient survival rates.
As President & CEO Mr. Gibbs has overseen the development of several significant capital and strategic initiatives. In 2018 Maimonides formed a relationship with MMCH (then known as New York Community Hospital), leading up to an affiliation agreement through which MMCH became part of Maimonides in 2021. Also in 2020, Maimonides issued $140 million in bonds to finance a major modernization of the main campus including creation of Brooklyn's first stand-alone pediatric emergency department.
Mr. Gibbs is Chair of the Board of Healthfirst and currently serves on the Board of the Greater New York Hospital Association and the Healthcare Association of New York State.
Before leading Maimonides, Mr. Gibbs was President of the Municipal Securities Group of Jefferies, LLC for seven years. Prior to that, he was the CEO of DEPFA First Albany Securities, LLC and held several leadership positions at First Albany Capital, Inc. over the course of 14 years. He also held various investment banking positions at Lazard Freres, First Boston and Kidder Peabody.
Mr. Gibbs is a member of the Executive Committee and past Chair of the Board of Trustees of the New York Citizens Budget Commission. He is a member of the Board of Rubicon Infrastructure Advisors. He is a past Chair of the Securities Industry and Financial Markets Association (SIFMA) PAC, past Chair of SIFMA's Municipal Executive Committee and a past member of the Municipal Securities Rulemaking Board.
Mr. Gibbs holds a B.A. from Harvard College. He is a native New Yorker and with his wife has raised four children.

Maimonides is committed to providing outstanding care to Brooklyn
Clinical Leadership
Jeffrey R. Avner, MD, Pediatrics
Patrick I. Borgen, MD, Surgery
Jack Choueka, MD, Orthopedics
Scott Chudnoff, MD, Obstetrics & Gynecology
Bernadine Donahue, MD, Radiation Oncology
Anthony N. Kalloo, MD, Medicine
Mark Kronenfeld, MD, Anesthesiology
Jenny Libien, MD, PhD, Pathology
John P. Marshall, MD, Emergency Medicine
Daniel Rosenbaum, MD, Neurology
Jacob Shani, MD, Cardiology
Steven Shankman, MD, Radiology
Abraham M. Taub, DO, Psychiatry
Senior Management
David I. Cohen, MD, EVP, Population Health & Academic Affairs
Douglas Jablon, EVP, Community Relations & Special Assistant to the President
Robert Palermo, EVP, Chief Financial Officer
Robert Press, MD, PhD, EVP, Medical Affairs
Jeanie Kim Carpenter, SVP, Physician Network Operations
Frank DeGratto, SVP, Revenue Cycle
Declan Doyle, SVP, Operations & Clinical Services
Robin Gitman, VP, Academic Affairs & DIO
Rivka Mintz, VP & Interim Chief Nursing Officer
Sameh Samy, MBBCh, VP & Chief Quality Officer
Judy Bachman, EVP, Chief Transformation Officer & Interim Chief Operating Officer
"I'm confident that the more you know about this wonderful organization, the more you will want us to be your hospital, whether as a patient, volunteer, donor, or supporter."   
- Kenneth Gibbs, President and Chief Executive Officer
Board Of Trustees
Eugene Keilin, Chair
Peter Rebenwurzel, Vice-Chair
Erminia Rivera, Vice-Chair
Alex Rovt, PhD, Vice-Chair
Paul T. Addison, Treasurer
Frank A. Naccarato, Secretary
Donna Astion, MD
Richard A. Barasch
Joseph Bruno
Rev. Msgr. David Cassato
Jeffrey Fenster
Chaim Fischer
Yehoshua Fruchthandler
Monica Ghitan, MD
Kenneth D. Gibbs
Jack A. Hidary
Lofton Holder
Mortimer N. Klaus
George Liu, MD
Robert Machinist
Donald Meltzer
Azzam Obeid
Martin Payson
Trevor Price
Avi Schron
Mary Singh
David Spira
Aaron D. Twerski
Marty Waisbrod
George Weinberger
Michael L. Ziegler, Esq.
Emeritus Trustees
Irwin M. Birnbaum
Chaim H. Leshkowitz
Norman A. Ohrwashel
Alfred Schonberger
Teamwork is our top priority
Our leaders are committed to creating an environment that encompasses teamwork, respect, and fosters a culture of innovation. Maimonides continues to pioneer technology to provide exceptional patient care to our Brooklyn community.
Maimonides—we are Brooklyn born, respected everywhere. #OneMaimonides