The Jaffe Comprehensive Stroke Center at Maimonides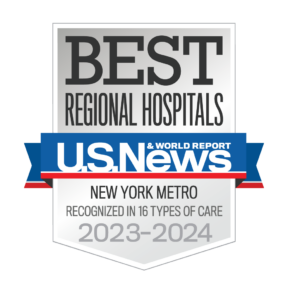 Here at Maimonides we offer rapid, advanced care for all types of stroke. We provide a full range of care, from neuroimaging options for quick and accurate diagnoses, to rapid clot busting treatments and other therapies, follow-up care and rehabilitation.
The faster you get treatment for a stroke, the better your chances of a full recovery. At Maimonides, we make every second count. The majority of people who arrive here after a stroke are treated within 30 minutes.
This exceptional stroke care is available 24/7 and delivered by our Comprehensive Stroke Center team. The team is experienced in treating all types of stroke, including ischemic stroke, hemorrhagic stroke and transient ischemic attacks (TIA).
After your initial treatment at Maimonides or elsewhere, we also offer services to help you recover—and prevent another stroke.
Videos of presentations from the 3rd Annual Brooklyn Stroke Symposium are now available.  Click here to view.
Stroke symptoms
If you or a loved one is experiencing any of the following signs of a stroke, call 911.
The acronym BE FAST may help you remember stroke symptoms, so you can call 911 immediately after noticing them:
Balance: You suddenly lose your balance.
Eye: You can't see out of one or both eyes.
Face: Your face droops.
Arm: When you hold both your arms up, one drifts downward.
Speech: You have difficulty speaking, or your speech is slurred.
Time: If you observe any of signs of stroke, call 911 immediately.
Emergency stroke care
When you arrive at Maimonides with a possible stroke, our team will work rapidly to determine what treatment you need. Our comprehensive diagnosis and treatment services include:
Telestroke evaluation: The faster you're treated, the better your chances of recovery. But different kinds of stroke require different treatments. To determine as quickly as possible what kind of stroke you've had, we use telestroke technology. That means a stroke neurologist provides an expert evaluation over video, without needing to spend time traveling to your bedside.
Tissue plasminogen activator (tPA): This drug can break up the blood clots that cause ischemic strokes. It needs to be administered within 3 hours of the stroke—the sooner, the better.
Endovascular or minimally invasive surgical procedures: Our interventional neuroradiologists and neurosurgeons offer a variety of minimally invasive procedures to repair the broken blood vessels that cause hemorrhagic strokes. Maimonides has state-of-the-art endovascular stroke suites and hybrid operating rooms designed to make these procedures as safe and fast as possible.
Our team of neurologists, neuro-interventionalists, neurosurgeons and neuroradiologists take an adaptive, collaborative approach to your care. The same high level of care is available whenever you arrive, 24 hours a day, 7 days a week.
Research and clinical trials
In partnership with SUNY Downstate Health Sciences University, Maimonides participates in stroke research and clinical trials. Clinical trials can give you access to the latest, most promising new therapies.
Stroke rehabilitation and prevention
After you've had initial stroke treatment, we offer services to help you recover—and prevent another stroke. These services are available whether you've had your initial treatment at Maimonides or somewhere else.
To make an appointment at the Maimonides Jaffe Comprehensive Stroke Center, call (718) 283-7670.
Award-winning care
U.S. News & World Report named Maimonides as a Best Regional Hospital and High Performing in Stroke care in 2022/23.
Maimonides is among the elite few hospitals designated as a Comprehensive Stroke Center by the Joint Commission. This is the highest designation a hospital can achieve for stroke care.
For the last 14 years, we've been on the American Heart Association's Get With The Guidelines Gold Plus Honor Roll. This requires meeting rigorous guidelines for rapid, appropriate treatment. The Gold level recognizes 24 consecutive months of high-quality performance.
The Jaffe Comprehensive Stroke Center also received the Target Stroke Elite award, which recognizes fast treatment times for stroke patients.